About FMW | About Robin Swain | Invite a Friend | Prayer Request | Contact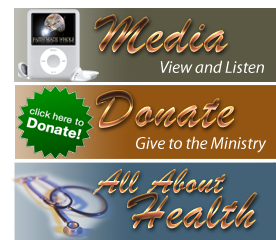 About Robin Swain
Robin Swain, Director & Founder
Faith Made Whole Inc.
Medical Evangelist Robin D. Swain is the founder and director of Faith Made Whole, a 501(c)(3) non-profit ministry that believes, supports, and engages in the work of Gospel Medical Missionary Evangelism. Faith Made Whole presents a Christ-centered, bible based approach to total restoration of body, mind, and spirit. After the inception of Faith Made Whole, Robin also founded Made Whole Inc., a for-profit health, wellness, and lifestyle consulting organization.
Robin's diverse background include years of teaching and preaching the gospel, health and lifestyle education, and medical missionary work. Additionally, Robin brings over 20 years experience in the Health and Fitness industry as a Personal Trainer, Personal Fitness Chef, and a Nutrition and Wellness Consultant. Furthermore, Robin has successfully completed an intense and comprehensive training program with M.E.E.T. Ministry as a Medical Missionary and a Christian Lifestyle Educator, holds a BS in Engineering from Purdue University, and has received corporate training on effective public speaking and interpersonal communication.
Within the last fifteen years, the involvement, contributions, and services Robin has provided to faith-based, corporate, government, and educational sectors include:
Preaching and teaching the gospel, bible prophecy, and other relevant end-time biblical subjects.
Ministering through the means of literature evangelism, interpersonal bible study, and several community-service focused initiatives.
Speaking and training on topics such as Medical Missionary work, Bible-based Nutrition, Hydrotherapy, The Use of Natural Remedies, etc.
Conducting public, private, and internationally televised cooking demonstrations on natural food selection and preparation.
Consulting and working with hundreds of clients, with diverse backgrounds and challenges, on four continents to help them achieve their health, fitness, and wellness goals.
Educating thousands through seminars, workshops, and media on how to use the bible, nutrition, lifestyle habits, and practical, "common sense" strategies to be made whole through faith in Jesus Christ.
Evangelist Robin D. Swain,
Founder / Speaker / Consultant

Board Certified Holistic Health Practitioner
Certified Nutrition and Wellness Consultant
Certified Personal Fitness Chef
Certified Personal Trainer