Preaching the Gospel | Health Restoration | Training and Development | Community Service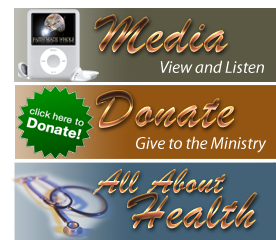 Preaching the Gospel
"And I saw another angel fly in the midst of heaven, having the everlasting gospel to preach unto them that dwell on the earth, and to every nation, and kindred, and tongue, and people...Here is the patience of the saints: here are they that keep the commandments of God, and the faith of Jesus". Revelation 14:6-12
While the whole world seems to be caught in a tailspin of increasing crime, indifference to hunger and suffering, and rising epidemics, all while yet aimlessly seeking to satisfy unquenchable quests for debilitating pleasures and frivolous, immoral entertainment, Faith Made Whole believes that we are living in the most solemn and serious time in this world's history. Therefore, the spreading (teaching and preaching) of the gospel is of the utmost urgency and extreme priority for this time in which we are living. We deem it both an honor and a solemn privilege to be a part of the movement that is spreading the gospel as described in Revelation 14: 6-12. Some of our contributions to this movement include:
One-Day Revivals
Full Weekend Revivals
One-Week Revivals
Evangelism/Evangelistic Efforts
Special Events (ex. Youth Revivals, Camp Meetings, etc.)
Faith Made Whole believes that the Holy Bible is the inspired Word of God and therefore we teach, promote and preach bible based sermons on a wide variety of biblical subjects ranging from foundational topics such as: the gospel, righteousness by faith, and practical godliness to end time subjects such as: Bible prophecy, its relevancy for these days, and preparation for the second coming of Jesus Christ.

If you would like to schedule a meeting or event, or learn more about our services, please feel free to contact us.