Preaching the Gospel | Health Restoration | Training and Development | Community Service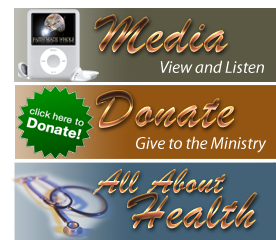 Training and Development
"Take fast hold of instruction; let her not go: keep her; for she is thy life". -Proverbs 4:13
"But the path of the just is as the shining light, that shineth more and more unto the perfect day". -Proverbs 4:18
"Hear counsel, and receive instruction, that thou mayest be wise in thy latter end".-Proverbs 19:20
Faith Made Whole counts it a privilege to not only engage in the work of gospel health ministry, but to educate and equip individuals, as well as organizations, to also carry on the work of restoration (physical, mental, and spiritual) and reconciliation (to Jesus Christ). Consequently, we offer the following training and development programs:
Medical Missionary Training*
This course focuses on educating and empowering consecrated individuals to become fully-equipped, fully-trained, gospel health missionaries prepared to render service in giving the earth's final message of mercy (See Revelation 14:6-12). Students will learn topics such as Nutrition, The Use of Herbs, Hydrotherapy, The Role of Health in the Plan of Salvation, The Laws of Health, How to Conduct Consultations, and much, much more.
Christian Growth and Development Training
Customizable training programs designed to assist individuals and congregations in various areas of Christian growth and development. Topics vary depending on the organization's need. Some examples are How to Study the Bible, Discovering Bible-based doctrines, Decoding the Prophecies of Daniel and Revelation, etc.
Hygienic Culinary Training
Becoming a healthy, good cook involves more than just having good recipes. After completing this training, you'll come to understand food, its nutritional properties, and how to use it to create natural gourmet meals. You will also gain fundamental and foundational hygienic culinary "hard skills" (i.e. food selection, food preparation, healthy substitutes, knife and cutting basics, etc ), as well as "soft skills" (i.e. common sense strategies, meal planning, time-management, motivation, etc.).

hygienic (hi'je-en'ik, hi-jen'-, -je'nik) adj.--pertaining or relating to the set of practices associated with the promotion and preservation of health and healthy living.
Live Cooking Class Training
This course focuses on teaching individuals how to plan, prepare, and execute live cooking demonstration for private or public venues.

If you would like to learn more information on the services that Faith Made Whole offers, please feel free to contact us
*This training is not designed to teach students how to diagnose, treat, or cure disease. Instead, it is designed to educate in understanding and applying simple laws of health, which have been known to improve an individual's overall quality of life physically, mentally, and spiritually.